Cryptocurrency is a type of money that exists digitally and employs encryption to safeguard transactions, as all internet users are aware. Cryptocurrencies use a decentralized mechanism to track transactions and create new units rather than a central body like a bank to issue or regulate them.
As an outlook we are aware the crypto market was initiated with the launch of Bitcoin, Although there were cryptocurrencies before Bitcoin they weren't widely known until after its launch in 2009. Since then, we have 1000s of cryptocurrencies in the market to date.
And one of the fastest-growing cryptos is Telcoin, if you are not aware of the crypto don't worry, in this article, I'm going to explain A-Z about Telcoin and we are going to discuss whether the "Telcoin is a good investment in 2023" and also going to discuss the future growth of the Telcoin crypto.
What is Telcoin?
2017 saw the creation of Telcoin (TEL) by Claude Eguienta and Paul Neuner, The first cryptocurrency focused on the telecom industry, Telcoin, is made available to mobile users worldwide in collaboration with GSMA network operators.
One of the expanding numbers of decentralized digital currencies and remittance networks based on Ethereum is Telcoin. The goal of integrating blockchain with the telecom sector was to simplify international money transactions.
By collaborating with international telecom companies, mobile money platforms, and billing platforms, Telcoin hopes to overtake the remittance market, which is currently dominated by Western Union (WU) and other rivals, and offer customers instantaneous, low-cost digital remittances via a mobile platform and secure wallet.
The customers, Telecommunications companies, and infrastructure make up the three components of the Telcoin model. It ensures that wallets are used properly and that the network is operational. As with any decentralized digital coin, Telcoin users have full ownership and control over their tokens.
How to Buy Telcoin?
Buying Telcoin is as easy as other cryptocurrencies. For example, You can buy Telcoin directly from the Coinbase Wallet app on your smartphone if you're a user. On the Assets tab, click the (+) Buy button. Then click the "Trade" option to exchange ETH for any token that adheres to the Ethereum protocol (also known as "ERC-20 tokens").
Where to Buy Telcoin?
Any cryptocurrency exchange allows you to purchase Telcoin. You may utilize crypto exchanges to acquire cryptocurrency using fiat money (such dollars or euros) and then swap it for telcoin thereafter.. Telcoin is available on a number of exchanges, including KuCoin, Bitrue, and Phemex.
Telcoin Price Predictions
Since there are only two months remaining for 2023, PricePrediction.net's "Telcoin price predictions for 2023" suggest that the coin will cost $0.00076 by December. When predicting Telcoin's future, WalletInvestor predicts that its price will also continue to decline, reaching $0.000119 by that time.
Telcoin Predictions
The average price of TEL should be about $0.17 in May 2030, according to Amb crypto's study, and the price range for the month should be $0.16 to $0.18. Telcoin is 97.99% below it's all-time high of $0.06 at the moment. The amount of TEL currently in circulation is 62,968,700,557.96.
The maximum token supply on the network at the time of the Telcoin (TEL) project's launch in 2017 was 100 billion TEL. Over 54 billion tokens (more than 50%) of the total quantity of TEL are now in circulation.
In a crowd sale, one-fourth of the tokens were given to investors, and the remaining 15%—including a 5% liquidity fund—were set aside for the development team. The rewards redeemable by telecom providers are equal to 50% of all tokens. Additionally, 5% of every Telcoin token is allocated to active projects and community rewards.
TEL fell to an all-time low of $0.00006516 on March 13, 2020. The cost increased until it reached an all-time high on May 11, 2021, at $0.0649. A further upward trend was, however, disallowed, and the price momentum for TEL was reversed.
In the last day, there has been an advance in the cryptocurrency market, and market capitalization has grown. It's great news for prices that the market is now quite upbeat.
Telcoin Trading Volume
With a $541,236 trading volume over the course of a day, the current live Telcoin price is $0.001232. In the past 24 hours, Telcoin has decreased by 0.04%. With a live market cap of $77,552,72, CoinMarketCap now ranks #272.
Given that the bulls have been in charge for the past 24 hours, Telcoin is also trading on strong momentum. Telcoin has had price fluctuations between $0.001214 and $0.001238.
Telcoin's Future Proof
With all the predictions and analysis, here is the next big question that may arise in your mind. "Is Telcoin a Good Investment?"
The market environment is favorable for cryptocurrencies, and analyses and reports predict that Telcoin's average anticipated price will rise over the coming years. Investors should exercise caution, though, since the value of the digital asset might quickly decline to zero.
The initial Telcoin price was $0.0120 in 2022. Telcoin's price dropped by -89% from the start of the year to today's price of $0.0014. The predicted price of Telcoin by the end of 2022 is $0.0015, with a year-over-year change of -87%. 10% more from now until the end of the year.
But it is usual, the market price may vary and ups and downs are common on the trading platform  but "Telcoin is a good investment" on average you will definitely make a profit in investing in Telcoin for the long term.
According to the Telcoin price prediction for 2022, the currency may remain at roughly $0.0087. Long-term price growth is anticipated, nevertheless. In a few years, it may reach $1.
The token won't climb quickly, but experts estimate it will gain in value and reach $0.14 by the end of 2023. However, experts do not believe that the currency will increase in value over time. Telcoin has ambitious aspirations for worldwide expansion in 2023, so this may change.
Telcoin Price Prediction 2022 – 2031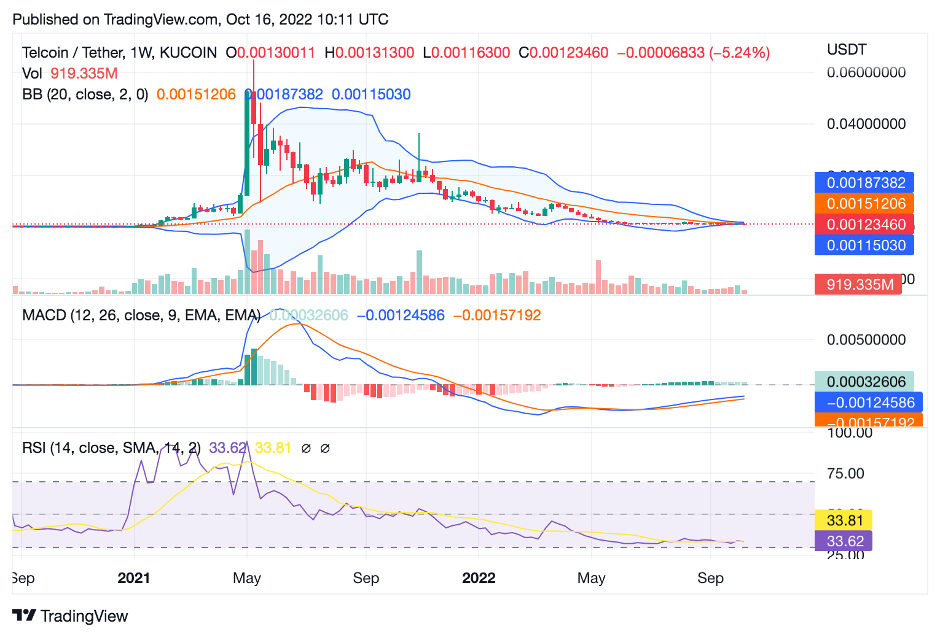 Final Verdict
My conclusion is, The number of telecom businesses, investors, and consumers who use Telcoin will determine its viability as a platform. Meanwhile, the increased flow of remittances and the rising number of smartphone users worldwide are encouraging.
Big international telecom companies have yet to formally endorse the Telcoin platform, though. Additionally, you should never forget that cryptocurrencies are very erratic investments and as such are vulnerable to sudden, seemingly arbitrary price changes. You should do your own research before making any investing decisions.
I hope this article helped you to have a clear idea of the Telcoin crypto and helped you to conclude considering "Telcoin is a good investment or not" and what Telcoin's future and Price predictions are.
If you find this article useful, then consider sharing it with your friends who have an idea to invest in Telcoin crypto, so that, they will get a clear understanding of whether "Telcoin is a good investment for 2023".